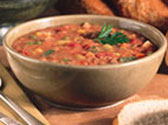 ◊◊◊◊
Go to recipe lists at bottom of page
◊◊◊◊
Phase 2 soups include pasta, rice, other grains, sweet potatoes, carrots. For soups with white potatoes or corn, see Phase 3 Soups.

Tuscan White Bean & Spinach Soup
http://www.food.com/recipe/tuscan-white-bean-spinach-soup-150898
Four main-dish servings.
2 tablespoons olive oil or safflower oil
1 or 2 garlic cloves, finely minced
1 shallot, finely diced (2 oz)
4 cups vegetarian broth*
1 (14.5 ounce) can diced tomatoes
2 cans (14.5 ounce each) Canellini beans (white kidney beans), drained and rinsed*
1 teaspoon dried rosemary (or 1 tablespoon fresh chopped) (used fresh)*
1/8 teaspoon black pepper
1/8 teaspoon crushed red pepper flakes, more or less to taste, and this is optional
1/2 cup (2 oz) pasta shells (optional) (I use Pasta Joy gluten free pasta shells)
6-oz package baby spinach leaves
In a Dutch oven, sauté the shallots & garlic in the oil (about 2 minutes).
Add broth, tomatoes, beans, and rosemary to pot. Season with black pepper and red pepper flakes, if using. Bring to boil.
Add pasta and simmer about 20 minutes or until pasta is done. If soup seems too thick, add more broth or some water. Do a taste test for salt and add some if needed.
Add spinach and cook until wilted.
=====
*Notes:
Can use broth cubes, follow package directions to make 4 cups. Flavor of soup will vary according to what broth is used.
Can use Great Northern beans in place of white kidney beans.
Can change the seasonings to suit your taste (use oregano instead of rosemary; add oregano, basil, garlic powder; use Italian seasoning in place of the rosemary, use a Mrs. Dash seasoning, etc.

Cauliflower-Carrot Soup
From SBD forum: This recipe for Cauliflower Soup was a life saver. It turned out to be one of the most comforting and delicious meal ideas for me. Absolutely yummy as cauliflower cooks down to the consistency of rice. You don't even realize you are eating cauliflower.
1 head of cauliflower, broken into small pieces
1 lb bag mini carrots, cut into bite size pieces
1/2 stalk celery, cut into bite size pieces
5 cups vegetarian broth (or chicken broth if desired)
1 teaspoon salt
1/4 teaspoon black pepper
In large soup pan, heat broth to slow boil; add cauliflower, carrots, celery, and spices. Cover and cook till vegetables are soft. If large pieces of cauliflower remain, use flat edged spatula to break up cauliflower during the cooking phase. Simmer over medium heat until vegetables are thoroughly cooked.
Keeps well in refrigerator for one week.

Carrot and Red Pepper Soup
Serves 4. From
http://www.pcrm.org/health/recipes
1 onion, chopped
6 carrots, thinly sliced
2 cups water or vegetable stock
2 red bell peppers, roasted
2 cups soy milk
2 teaspoons lemon juice
2 teaspoons balsamic vinegar
1/2 teaspoon salt
1/4 teaspoon freshly ground black pepper
Place the chopped onion and carrots into a pot with the water and simmer, covered, over medium heat until the carrots can be easily pierced with a fork, about 20 minutes.
Roast the peppers by placing them over an open gas flame or directly under the broiler until the skin is completely blackened. Place in a bowl, cover, and let stand about 15 minutes. Slip the charred skin off with your fingers, then cut the peppers in half and remove the seeds.
Blend the carrot mixture along with the peppers in several small batches. Add some of the soy milk to each batch to facilitate blending. Return to the pot and add the lemon juice, vinegar, salt, and pepper.Heat until steamy.
Recipe from
Eat Right, Live Longer
, by Neal D. Barnard, M.D.; recipe by Jennifer Raymond.

Chickpea, Rice, and Spinach Soup
This recipe adapted from Body + Soul magazine, February 2006.
2 cups uncooked brown rice
1 tablespoon olive oil
1 medium onion, finely chopped
2 garlic cloves, minced
6 cups vegetable broth
1/2 teaspoon dried rosemary, crumbled
1 can (15 ounces) chickpeas, drained and rinsed
10-ounce bag baby spinach leaves
Coarse salt and freshly ground pepper, to taste
1/2 cup freshly grated parmesan cheese
1. In a large saucepan, bring 4 cups water to a boil. Stir in brown rice and return to a boil; reduce to a simmer. Cook, covered, for 30 minutes.
2. Meanwhile, in a large saucepan or Dutch-oven, heat oil over medium heat. Add onion; cook, stirring frequently, until tender, about 5 minutes. Add garlic and broth and rosemary; bring to a boil. Cover, and remove from heat.
3. Check rice after 30 minutes; if it is not yet tender, cover and continue cooking, up to 10 more minutes. Stir 2 cups of the cooked rice and chickpeas into broth; return to a boil. Reduce to a simmer, cover, and continue cooking for 5 more minutes to allow flavors to blend. (Reserve remaining rice for another use.)
4. Stir in spinach; cook, uncovered, until just wilted, about 1 minute. Season with salt and pepper. Garnish with cheese; serve immediately.