Our Frog Collection
I've never done a count to see how many frog items that Lee and I have collected over the past 25+ years. It's not an extensive collection, especially in comparison to some other people's collections, but it's a lot of fun, and we enjoy the hobby!
To see just a few of the things in our collection, click on the
Collection Page links below. I have more to add as I can find the time.
Collection Page 1 ● Collection Page 2
Collection Page 3 ● Collection Page 4
---

The music playing is "Frog-I-More Rag" (1918)
by Ferdinand (Jelly-Roll) Morton (1890—1941)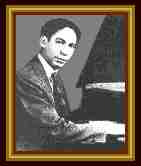 Copyrighted as song "Froggie Moore" in 1923.
Words by Benjamin F. Spikes and John C. Spikes.
Also copyrighted 1926 as "Sweetheart o' Mine."
Music, graphic, and information from www.trachtman.org.
See page on this site for more about Morton.