Jelly Roll Morton and the
"Frog-i-More Rag"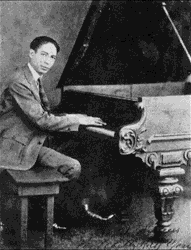 Ferdinand Joseph "Jelly Roll" Morton is generally acknowledged as the first jazz composer. The talents of this remarkable New Orleans jazz pioneer--composer, arranger, pianist--were exceeded only by his ego. He termed himself the inventor of jazz, claiming this honor in his extraordinary nine hours of interviews with Alan Lomax for the Library of Congress Music Division's Archive of American Folk Song in 1938. In those interviews, which comprise perhaps the first extended "oral history" ever created, Morton shows himself to be a brilliant raconteur: over his own piano vamps, he recalls turn-of-the-century life in New Orleans and illustrates the evolution of ragtime to jazz.
Morton probably wrote the "Frog-i-More Rag" in 1908 to accompany a fellow vaudevillian known as "Frog-i-More," a contortionist who performed in a frog costume. But Morton did not deposit the music for copyright until 1918, for fear that any form of public record was an invitation to purloin his ideas.
The "Frog-i-More Rag" seen here, in Jelly Roll's own hand, is thus the first of many copyright deposits the Library holds for Morton. Morton recorded the rag twice in the spring of 1924 but only one of the recordings survives; it was not released until the 1940s. This particular issue was published in 1949 by a group of record collectors who revived the Paramount records imprint. Paramount was a historically and musically significant record label of the 1920s and early 1930s. The disc and the tinted photograph of Morton are from the Nesuhi Ertegun Collection of Jelly Roll Morton Recordings at the Library of Congress. The Ertegun Collection contains every commercial recording Morton ever made, all in their original 78-rpm disc format.
Text and photos from American Treasures of the Library of Congress.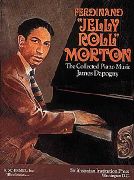 Color version of above picture